By Chemtai Kirui
Ashden Awards welcomes Kenya's Sokofresh and Kakuma ventures as the newest winners of its prestigious awards, which recognizes the world's most innovative initiatives implementing clean and accessible energy and natural climate solutions.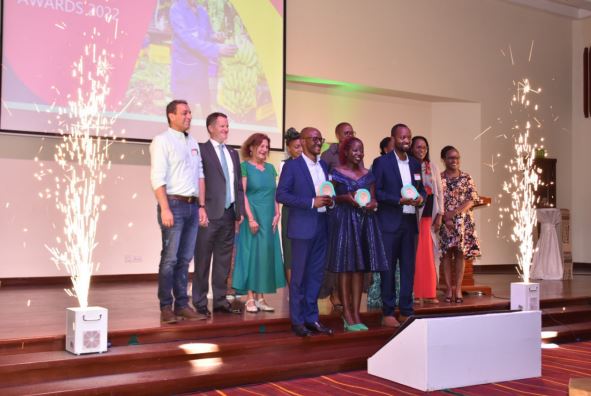 Ashden Awards winners, judges, presenters, keynote speakers, and hosts, pose for a picture, over the concluding ceremony and recognition of the winners of the 2022 Ashden Award Ceremony, in Nairobi, Kenya on October 27th. PHOTO/ Philip Biwott.
Nairobi's Movenpick hotel was the chosen location for the first-ever ASHDEN Award ceremony to be held on African soil. The full-capacity evening event, which started from 6 pm to 9 pm (EAT) was buzzing with excitement from start to finish—not just over the inclusion of well- deserving clean energy trailblazers and speakers who captivated the audience with moving speeches, but also the pomp, the color, music, lights, and fireworks, which washed over the room every time the winner was announced. Cheers, foot tapping, and laughter added flavor to the vibrant scene.
ASHDEN Awards has honored and supported climate innovation in the UK and developing countries since 2001. To earn Ashden Award, an innovator must show an uncompromising devotion to delivering innovative and scalable climate solutions to the journey to zero carbon. Today, the awards represent more than 240 innovators around the globe.
Overall, on October 27th, the African climate smart Innovators showed the world that they have been going beyond the fundamentals of excellence in their quest to provide clean energy to their community. Four out of the six winners from the Global South are from African countries – two from Kenya, and the others from Togo, and Zimbabwe. Between them they took away Ashden awards 2022' prizes for improving farmers' access to clean energy, transforming refugees' livelihoods, or training people for jobs linked to renewable energy technologies.
"We brought the Ashden Award from London to Kenya, because it is such a hub of inspiration, we keep having winners from Africa, who are not only coming up with climate-smart innovations, and equally important, these innovations are able to reach and serve, vulnerable community," said Harriet Lamb, the CEO of Ashden, adding that  "We are glad to share these inspirational stories here and also get a chance to showcase the same at the 'African COP' (COP27) and say, here are the positive solution now get the finance behind them, to empower their scale up and spread up."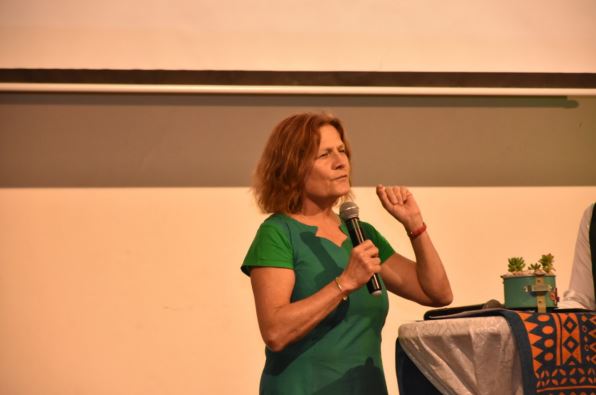 Harriet Lamb, the CEO of Ashden speaks at the start of the Award Ceremony. October 27, 2022. PHOTO/Philip Biwott.
"African COP' – is the endearing term being used, by climate advocates around the globe to refer to the 2022 United Nations Climate Change Conference (UNCCC), which is holding its annual 27th meeting in Egypt. This Conference brings together members from 197 countries who are the signatories of the Paris Agreement on combating climate change.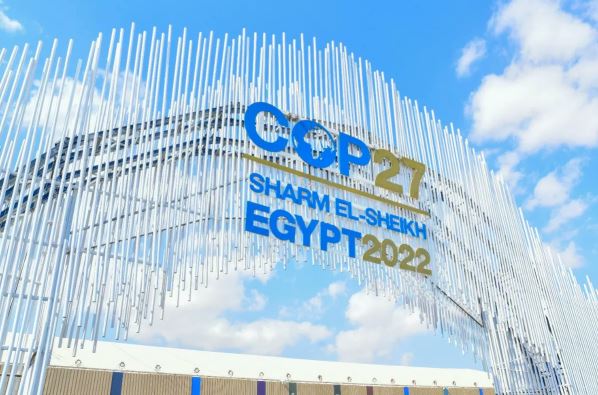 The Conference of Parties 27 (COP27) formally kicked off on Sunday 5TH,2022 at Sharm el-Sheikh, Egypt/ @statehousekenya (twitter).
UNCCC is a summit that brings together Civil society, scientists, and policymakers who either observe or participate in negotiations that will determine the fate of Climate outcomes for generations to come.
The Ashden award winners' inspiring innovations, come at a time when the globe is calling for the Just Energy Transition Plan. A report published by the United Nations Climate Change Conference (UNCCC) indicates that ambitious climate action is urgently needed for the world to be able to cut 45% of CO2 emissions by 2030, to meet the central Paris Agreement goal of limiting temperature rise to 1.5 degrees Celsius, a crucial step, to avoid the worst impacts of climate change, including more frequent and severe droughts and unreliable rainfall, that Kenya is today heavily affected by.
"We would like to inspire other entrepreneurs, who have ideas that can solve the challenges that we are facing as a society because an individual cannot solve these challenges, we need a huge alliance of entrepreneurs," said Denis Karema, the CEO of SokoFresh and the 2022 Ashden Award winner.
SokoFresh helps farmers reduce post-harvest losses through solar-powered cold storage and market linkages.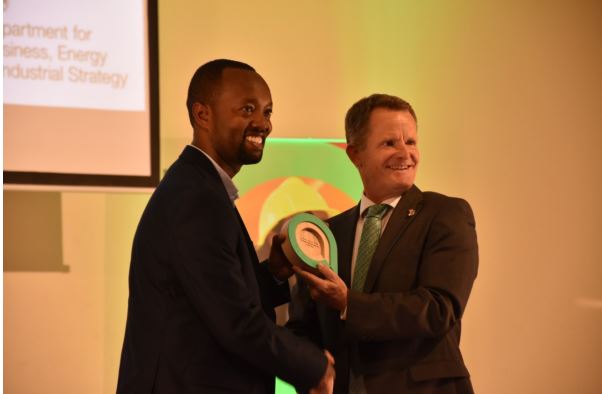 Deputy British high commissioner Julius Court presents the 2022 Ashden Award plaque to Denis Karema, the CEO of Sokofresh. October 27, 2022. PHOTO/ Philip Biwott.
"This is the night of the displaced," said Innocent Tshilomba while accepting his award. Tshilomba, another Ashden Award winner, is the Co-founder and Managing director of Kakuma Venture which was recognized for bringing internet access to people in refugee camps using clean energy, creating jobs, and boosting education.
He said that "I hope this award shows people that we the refugees have something to contribute to society. We do not sit back and rely on aid indefinitely. We have the capability to empower ourselves and in the same effort empower others." adding that "Kakuma Ventures, is not just providing digital access to the refugees, it is giving them hope, giving them access to education and life skill, which will shape a community of hope for a better tomorrow".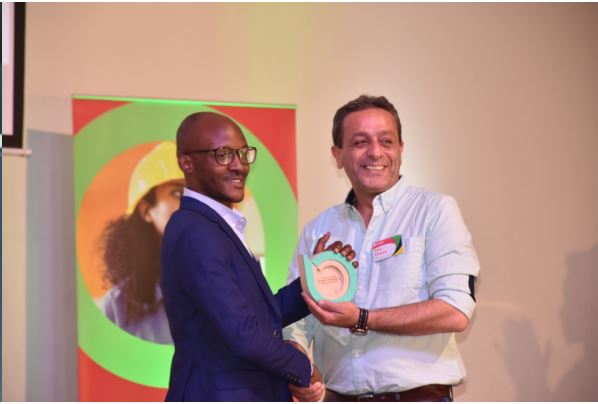 The steering committee member from Global Refugee Led Network, Amer Alkayed presents the 2022 Ashden Award plaque to Innocent Tshilomba, the Co-founder and Managing director of Kakuma Venture, on October 27, 2022. PHOTO/Philip Biwott.
"Add to that impeccable win by a refugee who found a solution from scratch, with little to no funding and with struggles surrounding the refugees, then raise up to be a great employer providing jobs and educational opportunity for the community, and it becomes obvious why tonight winners are so deserving of this award," said Amer Alkayed Steering Committee Member from Global Refugee Led Network who was among the judging panel of Ashden awards 2022.
Alkayed, who is a refugee himself said that "We have been going around the world, collecting voices of the refugees, which we intend to share with the international policymakers at the COP27. The displaced community wants to let the world know what is affecting them and the type of solutions they want to see, and to be allowed to actively participate in the solution making," noting that "Our motto is – Nothing for us, without us."
Kenya's Kakuma Venture and SokoFresh are among the over 45 member organizations, that have joined hands to form Power up — a coalition campaign with an aim of amplifying African Voices, as they call for climate adaptation funding to support wider access to affordable, clean energy.
Energy Generation, Togo – a ground-breaking training center empowering entrepreneurs to create solutions for Africans by Africans – sparking opportunities for women and Zonful Energy, Zimbabwe – providing training in the solar sector for rural young people, through collaboration with colleges and NGOs, alongside connections to job, are the two other 2022 Ashden awards winners' organization, who are members of Power up campaign.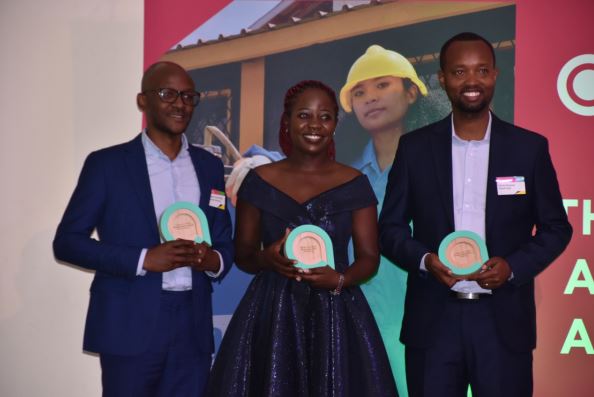 3 out of 4 African Ashden Awards winners, 2022, hold their plaques for a photo, over the concluding ceremony and recognition Ceremony, in Nairobi, Kenya, October 27th. PHOTO/ Philip Biwott.
"Energy access and government climate finance must be put at the heart of these crucial climate negotiations. Nations in the global South need finance to support clean and accessible renewable energy," said Lamb.
Ashden CEO's remarks, come at a time, when a report from the African development bank group says that "Over 640 million Africans have no access to energy, corresponding to an electricity access rate for African countries at just over 40 percent, the lowest in the world." adding that "Insufficient energy access manifests itself in hundreds of thousands of deaths annually due to the use of wood-burning stoves for cooking; handicaps the operations of hospitals and emergency services; compromises educational attainment; and drives up the cost of doing business."
The report further notes that "Energy access for all is, therefore, one of the key drivers of inclusive growth as it creates opportunities for women, youths, and children both in urban and rural areas."
Speaking at the UN Cop 27 climate conference in Sharm el-Sheikh, Egypt, President William Ruto said "Kenya, a country with far fewer resources than the average developed country, has foregone polluting industrialization and growth opportunities and intentionally invested in clean, green energy.
It must be recalled that Kenya has tremendous hydrocarbon and coal deposits which would go a long way in fueling the engines of development. Nevertheless, due to resolute commitment, our electricity grid is 93% green," adding, "I am convinced of the need to more comprehensively showcase the opportunities that abound in Africa, such as green energy, smart agriculture, de-carbonized manufacturing, e-mobility and green building, all aimed at the attainment of zero carbon by 2050."
Ruto, speaking on behalf of the African Group, further urged the delegates from the Global North (developed countries) to stop stalling on their pledge to a collective goal of mobilizing USD 100 billion per year by 2020 to help developing countries address the impacts of climate change.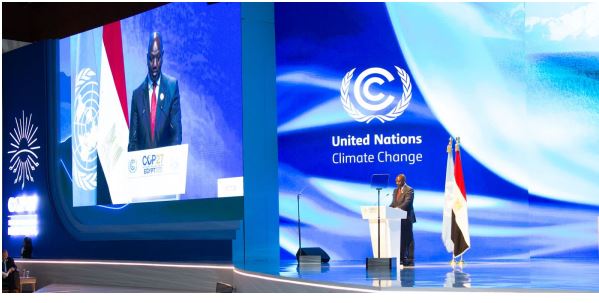 President William Ruto speaking to the delegates at the United Nations COP27 climate conference in Sharm el-Sheikh, Egypt. November, 7th 2022/ @statehousekenya (Twitter).
The President's speech came hours after his conversation with Rishi Sunak, the newly appointed Prime Minister of the United Kingdom (UK), on the sidelines of the climate conference COP27, where it was announced that Kenya and the UK, have agreed to fast-track six projects worth KES 500 billion to accelerate the flow of climate finance into Kenya.
The green investment programs in energy, agriculture, and transport will become flagship projects of the UK-Kenya Strategic Partnership.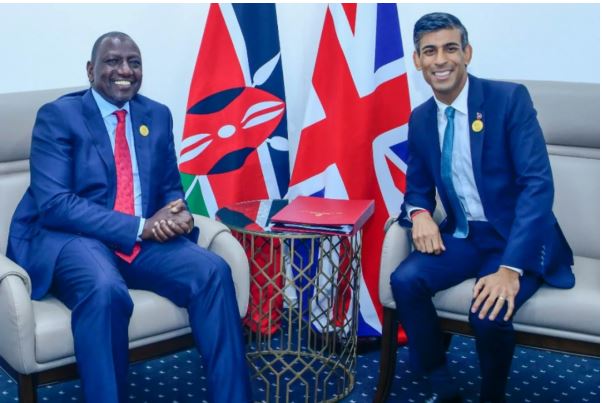 UK Prime Minister, Rishi Sunak and President William Samoei Arap Ruto hold a Bilateral talk on the sidelines of the UN COP27 climate conference in Sharm el-Sheikh, Egypt. November, 7th 2022/ @statehousekenya (Twitter).
Even as the talk of Climate financing continues to dominate the air in Egypt, the United Nations Secretary-General, Antonio Guterres, didn't hold back when he made his High-level opening remarks at COP 27. He said "We are on a highway to climate hell with our foot on the accelerator. Greenhouse gas emissions keep growing. Global temperatures keep rising. And our planet is fast approaching tipping points that will make climate chaos irreversible."
Guterres further called on a Pact in which wealthier countries and International Financial Institutions provide financial and technical assistance to help emerging economies speed up their own renewable energy transition.
"A Pact that will provide universal, affordable, sustainable energy for all," he said.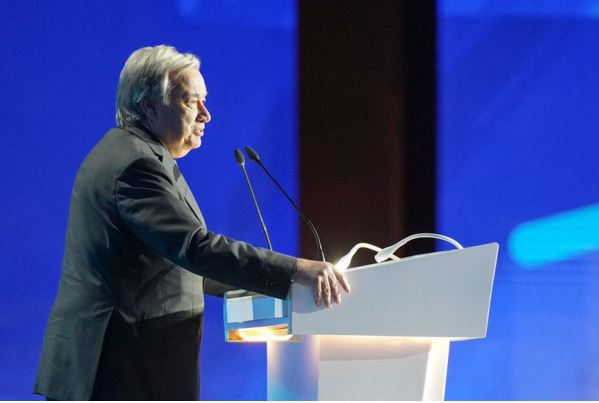 United Nations Secretary-General Antonio Guterres addressing the remarks at the High-Level opening of COP27. November, 7th 2022/ United Nations.
Guterres urged the delegates to "redirect money to people struggling with rising food and energy prices and to countries suffering loss and damage caused by the climate crisis."
Guterres sentiments are echoed by Ashden CEO who says "Everything must be done to unlock private sector investment. Countries in the global South did nothing to cause the climate emergency yet are already suffering most from its impacts and stare into an uncertain future. Governments in the global North which carry the biggest legacy of fossil fuel burning have an obligation to support the South. Globally, we all rely on each other, for food and resources, so no one can be left behind."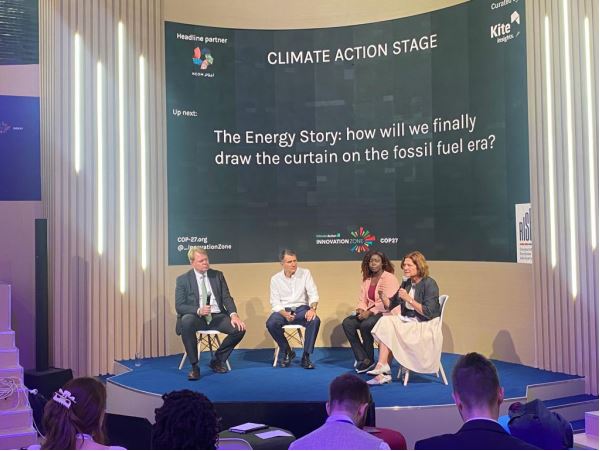 Ashden Award Ceo, Harriet Lamb, speaks at an innovation zone stage of Climate action, as moderator Charles Perry and other panel members listen in. November, 7th 2022 / @RISE_purpose (Twitter).
Together towards implementation; that's the motto of the 27th United Nations Climate Change Conference which is being held from 6 November until 18 November 2022 in Sharm El Sheikh, Egypt.
Ashden is a London-based charity that works in the field of sustainable energy and development. Its work includes the annual Ashden Awards, advocacy and research in the field of sustainable energy, mentoring, and practical support for award winners.